Please click here if you are unable to view this page.
 

From the Desk of Gulcin Cribb
University Librarian

 
 

 

It is not surprising that SMU Libraries has retained its status as the 'Most Preferred Place' by SMU students for many years running, according to the 2018 annual SMUSA (SMU Students Association) survey. The new Academic Year began with hundreds of new and continuing SMU students making use of learning spaces and services on offer both in Li Ka Shing and Kwa Geok Choo Libraries.

Did you know that you can discover which art works SMU Art Collection includes by checking the special website and find out where they are. SMU Art Collection reflects SMU's vision as a global-city university in Asia with its mix of Singapore, Southeast Asia and international modern and contemporary artworks, such as Chua Ek Kay's ink paintings, examples of Myanmar, Philippine and Indonesian art, photographs and contemporary sculptures on display at various buildings and outdoors on campus. Thanks to the generosity and commitment of donors, artists and supporters who have made the SMU Art Collection possible over the years. If you wish to learn more about the SMU Art Collection, please don't hesitate to contact our art specialists in the Library.

Gulcin Cribb
University Librarian
---
SMU Libraries - Shanghai University of Finance and Economics (SUFE) Library Exchange
In raising the international profile of SMU, SMU Libraries recently hosted three librarians: Wang Yang, Deputy Director for Technology, Li Yi Cheng, Information Technology Department and Wang Hao, Subject Service Department between 26th March to 18th April 2019 from one of SMU's partner universities, Shanghai University of Finance and Economics Library (SUFE).
Our visitors enjoyed a programme based on their research plans curated by Ms Low Jiaxin (Research Librarian, Business) and Rajen Munoo (Head, Learning Services). They had conversations with staff, participated in staff activities and visited local libraries. Other SMU departments such as SMU-X, CTE, IITS, Case Writing, Postgraduate Professional Programmes and the International Office graciously hosted them.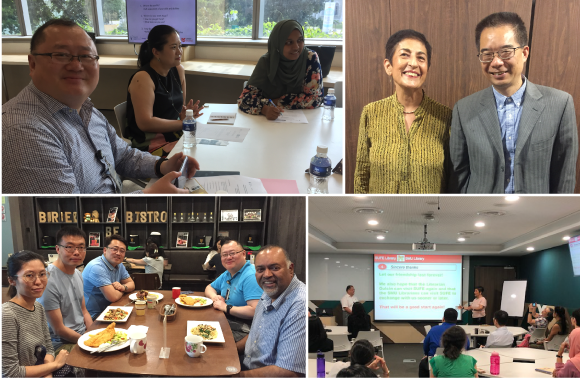 They finished their attachment with a presentation to the library staff where they reflections on "See, Think, Ask, and Say: What can I do for SUFE Library". This attachment was closely followed by a visit by Dr Weiqun Zhu, SUFE's Dean of University Library and Professor Director of Taxation Department on 2 May. He was hosted by Ms Gulcin Cribb, University Librarian.
---
Go Green at SMU Libraries
A big thank you from SMU Verts and the Library for supporting "Go Green at SMU Libraries"! Miss "sprout" on the activities? No worries. Here's some snapshots of the activities.
Photo source: SMU Verts

 

Photo source: SMU Verts

e-Waste exchange: An exchange of e-waste, sprout pencils and big smiles!

"For what its Earth" book display (starring curated books with special "appearance" from DiCaprio and Obama).

 

Participants learning how to make sustainable body scrub in Clean and Green workshop .

 

They came, they sewed and.. their very own cup holders made during the Upcycling workshop.

 

Finally, to all who had participated in the "Green Knowledge" quiz, remember to check your SMU email inbox to see if you are one of the lucky winners. 

#LiveMoreWasteLess
In support of the DBS-SMU Sustainability Initiative
---
Interlibrary Loan
Ever encounter the message "No full text available" in your library search results? Fret not. You can obtain the resource through the SMU Library's Interlibrary loan service. Click on the "Request Interlibrary Loan" link to submit a request. You can also request through your Library account, and the Library will handle the rest!

Interlibrary loan is a service that obtains books, book chapters, journal articles and other resources for university-related research and teaching that are not available in the SMU Libraries collection. Visit the SMU Library's website to learn more about Interlibrary loan services.
---
SMU research making worldwide impact with 3 million downloads in InK

SMU research is making an impact worldwide. SMU research publications have been downloaded 3 million times from InK (SMU institutional repository) since 2011. In just 12 months, we saw another 1 million downloads, from a collection of less than 9,000 full text papers.
The countries who downloaded the most from InK include United States, United Kingdom, Germany, India, China, Philippines and Malaysia.
We thank all the SMU community members who have contributed their publications to InK.
---
 
 
 
 
 
 
 

Library Annual Report 2018

What happened in a typical month in SMU Libraries? How are SMU students using the libraries? Find the answers to these questions as well as highlights of the Library's achievements and developments in the 2018 Library Annual Report.

 

Telepresence Robot

Latest addition to SMU Libraries. Look out for this little robot in the coming months.
---
Highlights from Instagram
---
New faces in the Library
Ron Bulaon

 

Ooi Kooi Cheng

Ron is a Digital Innovation Manager. He is responsible for initiatives that include prototyping and implementing latest concepts on technologies. He is fond of using technology as a solution to problems - through development and system design.

Grappling and boxing are his personal choice of workout!

 

Kooi Cheng is a Collections Librarian. Her main role is to support the Library's Reading List services so that students can have access to the resources they need for their courses.

Her most favorite thing is enjoying a good laugh with friends. 

 
 
 
---
Our Passion, Our Commitment, Your Advantage
SMU Libraries - Email: library [at] smu.edu.sg - Tel: 6828 0355
To  unsubscribe:
Internal recipients of SMU, please visit https://smu.sg/emailrules for instructions on how to filter away this EDM