Please click here if you are unable to view this page.

University Librarian Shares...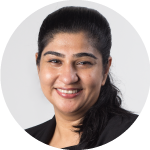 As we move into another Term, I find it heartening to note the return of our vibrant campus life and delighted to share some of the initiatives that the Libraries have underway to advance research, education, complex problem solving, and cultivate lifelong learning across the SMU community.
Whether you are beginning or continuing your educational journey with us, we look forward to being your learning partner through our digital services and at both libraries on campus.
SMU Libraries are not only preferred places to study, but also provide digital and physical spaces to cultivate connections, entrepreneurialism, and diverse learning experiences in sustainable spaces. On that note, I am happy to share that our learning spaces at Li Ka Shing Library have been refreshed with teleconferencing facilities in select rooms as well as a more conducive study environment in the Quiet area.
The Libraries are also in the midst of conducting our biennial Library Survey to seek feedback on our services and resources from students and administrative staff, and we would love to hear from you. The survey should take about 5 minutes to complete. And as a bonus, there are some amazing prizes to be won.
The Bite-Sized Library Workshops are here again! One of our flagship events, this year it runs from 17 January to 25 February, training students in the areas of research skills and database searching, working with data, writing persuasively and presenting confidently, workplace readiness tips and many other topics, in collaboration with our campus partners. If you are interested in learning more, don't hesitate to sign-up. The sessions are conducted online to provide for flexibility in managing your busy schedules and cover a wide variety of topics. And in case, you have missed this run, fret not. The workshops will return for the next run in the following term.
As you navigate your individual learning journeys @ SMU, your Research Librarians are well placed to assist you in your learning and research needs. Please do not hesitate to contact them for help starting your research or with more complex queries about your unique research project. The "Ask Library" chat on the Libraries' website is another way that you can reach out to us for assistance.
Hope you enjoy reading this edition of the Libraries Playlist and we look forward to seeing you in the Libraries and online.
---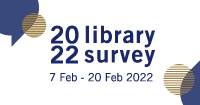 Calling all students and administrative staff!
Have you completed the 2022 Library Survey?
If you have not, the Libraries want to hear from you. Participate in the 2022 Library Survey to let us know how we can enhance our services and resources to help you with your work.
You will stand a chance to win attractive prizes including SGD 250 Takashimaya Vouchers, SGD 200 Grab Vouchers, Apple  Airpod and more!
The survey will close on 20 February, 11:59PM.
---
Refreshed learning spaces
Welcome back to campus. SMU Libraries have refreshed some of the learning spaces.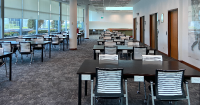 A more conducive Quiet Area at Li Ka Shing Library level five
Quiet area at level five of Li Ka Shing Library has new furniture and more importantly, power points at every table. You can now power on with your assignments without worries.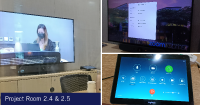 Teleconferencing project meeting rooms at Li Ka Shing Library
Project meeting room 2.4 & 2.5 are now Zoom Rooms! Having a hybrid meeting? Joining a Zoom meeting? Project room 2.4 & 2.5 in the Learning Commons at level 2 of Li Ka Shing Library are Zoom-enabled. Key in your Meeting ID and passcode to the Zoom console and you are all set to join the meeting.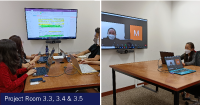 New teleconferencing features in project rooms 3.3, 3.4 & 3.5.
Project rooms 3.3, 3.4 & 3.5 are now teleconferencing-enabled with Logitech MeetUp video and audio-conferencing system. No complicated set-up required, just plug and play via USB.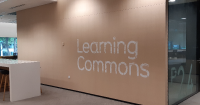 Designated spaces to attend livestreamed classes and 24/7 Learning Commons
The Learning Lab 2 @ Li Ka Shing Library and Learning Lab 3 @ Kwa Geok Choo Law Library are designated spaces for students to attend livestreamed classes. In addition, 24/7 Learning Commons in the Libraries are back!
---
Art takes over Li Ka Shing Library
SMU Libraries are pleased to present the second edition of Annotations, a photography exhibition by 10 undergraduate and postgraduate students.
Together, their narratives weave a rich tapestry of stories, observations, and perspectives that range from expressing the thrill and pain of womanhood, and finding beauty in decay, to observing the lives of strangers on the streets, and documenting the bond shared between pets and their humans at a veterinary clinic. Like notations in the margins, these photo projects reveal an exchange within and between ourselves and our surroundings.
The exhibition is on view till 27 February 2022.
---
Discover SMU resources via the new "Try SMU Libraries" option in Google Scholar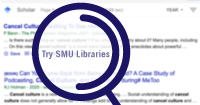 Google Scholar is known to be pretty popular among researchers. With its large source of academic content, familiar interface powered by Google's famed search algorithm, it is simple and intuitive platform to conduct research. For a long time now, SMU Libraries have supported Google Scholar use by enrolling in the library links programme. Resources that are available via SMU Libraries will have the label "Findit@SMU Libraries" next to these items.
Now what about resources that Google Scholar deem unavailable from SMU Libraries? This is where the new "Try SMU Libraries" option comes in handy. With the new "Try SMU Libraries" option, you can confirm that the resource is truly unavailable and seamlessly submit a request for the item from the librarian.
---
Join librarians and other campus partners such as SSC, IITS, MWKLSWC, and Faculty from 17 January to 25 February 2022 to learn more about research skills and database searching, working with data, writing persuasively and presenting confidently, workplace readiness tips and many other topics.
---
New Face in the Libraries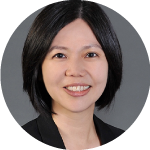 As a Senior Library Specialist in the Collections, Access, and Technology team in SMU Libraries, my main role is to support Reading Lists operations, to ensure that course readings are made available in a timely manner to support students' learning.
SMU Libraries is not an unfamiliar ground to me, having worked in the institution for close to 10 years before taking the leap to explore new opportunities for the past 2.5 years. It is great to be back to SMU Libraries again to work along aside with the wonderful colleagues.
I enjoy watching Korean dramas and variety shows a lot. In the past, I have been travelling whenever time and budget permit. I hope this pandemic will come under control soon and I can resume travelling to many of the places on my bucket list, one of which is Korea!
---