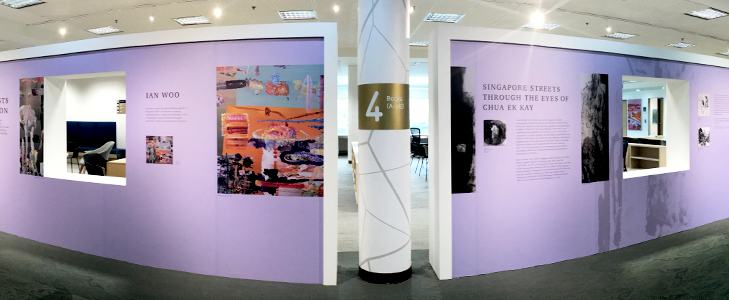 SMU Libraries is pleased to announce the completion of art@level4.
art@level4 is a dedicated exhibition space at Li Ka Shing Library Level 4. The exhibition space, composed of six freestanding panels, is a teeming thoroughfare with students passing through. art@level4 aims to enrich and enliven the cultural and intellectual life on SMU's city campus, and strengthen its role in the Civic District and the Bras Basah. Bugis Precinct, by showcasing artworks and exhibitions that contribute to the discourse on aesthetics, history and socio-political issues.
The inaugural exhibition at art@level4 is an introduction to the SMU Art Collection, which comprises primarily Singapore and Southeast Asian modern and contemporary artworks. The Collection is made possible through the generosity and commitment of donors, artists and supporters. The exhibition highlights the artists and artworks within the Collection and their location on campus, including Chua Ek Kay's Street Scene series and Indra Leonardi's Indonesian Portrait series. Long-term loan displays, such as the Pacita Abad and Thukhuma Collections, are also highlighted.