Shape the future at SMU!
Career opportunities at SMU Libraries in support of research, learning and teaching
Available positions:
We are seeking dynamic, innovative, and service-oriented individuals to join our existing team of international library professionals. If you have the relevant experience and are interested in being part of a team that is shaping Library services for a 21st-century library, send in an application now.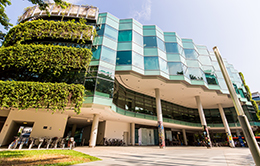 Singapore Management University
Singapore Management University (SMU) is a dynamic young university with a reputation for high quality education, outstanding research and excellent community engagement both on local and international level. Incorporated in January 2000, SMU aspires to generate leading edge research with global impact as well as produce broad-based, creative and entrepreneurial leaders for the knowledge-based economy. SMU occupies a state-of-the-art city campus located in the heart of Singapore's civic, cultural and business districts. Today, SMU is home to more than 10,000 students and comprises six schools: the School of Accountancy; Lee Kong Chian School of Business; School of Economics; School of Computing and Information Systems; Yong Pung How School of Law; and School of Social Sciences  offering undergraduate, masters and PhD programmes.
The University also has a number of institutes and centres of excellence, and provides public and customised programmes for working professionals.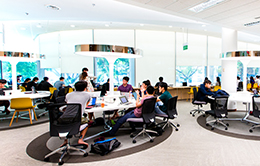 SMU Libraries
SMU Libraries provides services in support of SMU's research, teaching and learning. The Libraries offer a range of learning spaces and facilities to suit the different learning needs of users. Library's extensive electronic resource collections are accessible via a simple discovery system. Most library resources can be searched and accessed via mobile devices. The Libraries are continuously upgrading its services, resources and facilities to support SMU community's research, learning and information needs often by adopting cutting edge technologies and practices.

SMU Libraries offer extensive information literacy programmes throughout the year to support SMU undergraduate and postgraduate students' research and lifelong learning needs and requirements. Research Librarians work closely with the faculty to support their teaching and research activities, advise them on the best sources of information for their research, show them how to find and manage information for their research and work with them to integrate library resources into courses by developing customised research guides.
How to apply
Please email resumes with a covering letter to libjob@smu.edu.sg. Applications will be reviewed as they arrive. Candidates must be eligible to work in Singapore. Local terms apply. Only short-listed candidates will be contacted.