Central to SMU's city campus, SMU Libraries are places of discovery and are active environments that inspire and educate. The Libraries contribute to the research, teaching, and learning needs of the SMU community through two physical libraries, Li Ka Shing Library and Kwa Geok Choo Law Library and via digital services.
Vision
To be a world-renowned university library. We advance research, education, complex problem solving, and cultivate lifelong learning through innovative approaches, information discovery and strategic partnerships to achieve meaningful impact.
Mission
We do this by:
Curating and providing seamless access to relevant collections and resources
Promoting skills and habits for critical engagement with information and effective participation in the changing digital information landscape
Fostering environments that inspire curiosity and empower knowledge creation
Anticipating and exceeding the needs of our community through building dynamic local and global relationships
Developing our staff to engage in continuous learning in a joyful and purposeful place of work
Values
As a team, we uphold SMU's CIRCLE values:
Commitment
Sticking to an agreement and seeing a project through to completion even when the going gets tough

Integrity
Being honest and truthful with yourself and especially with others

Responsibility
The voluntary act of holding oneself accountable for one's own actions

Collegiality
Collegiality means more than just getting along with people. It means being a responsible citizen within the University community 
Leadership
Leadership is an influence, a conviction and a responsibility a team establishes
Excellence
Excellence entails giving your very best in every endeavour you undertake
SMU Libraries Strategic Plan 2021-2025
The Libraries launch our Strategic Plan in 2021. SMU Libraries' Strategic Plan 2021- 2025 is aligned with SMU 2025: Growing Impact, Cultivating Change and draws upon the evolving needs and expectations of our stakeholders.

The Strategic Plan outlines the directions and goals which will guide us in the upcoming years to provide optimal library experiences and services.
Diversity & inclusion
The Libraries endeavor to provide universal access to resources and services. If you encounter problems, or require assistance, please approach one of the Libraries' staff. Alternatively, you can email library@smu.edu.sg for enquiry or assistance.
SMU Libraries are a member of:
Singapore Alliance of University Libraries (SAUL)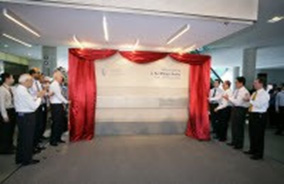 "I would like this library to be seen as the intellectual hub and a centre for research for faculty; as a place for students to come and collaborate."
- Minister Mentor Lee Kuan Yew (Channel NewsAsia, 24 Feb 2006)
The Li Ka Shing Library was officially opened on 24 February 2006. The Library is named after Hong Kong businessman Dr. Li Ka-shing, Chairman of Cheung Kong (Holdings) Limited and Hutchison Whampoa Limited. The Li Ka Shing Foundation donated an endowment to the library for collections and to the University for scholarship.
The library includes four floors that comprise about 8,800 square meters of public space with 1,800 seats. The library offers a range of learning spaces to suit different user needs and preferences, including open areas for individual and collaborative use, a Learning Commons , study booths, 38 project rooms equipped with LCD panels, learning labs, an Investment Studio with specialised financial databases, quiet areas, and postgraduate lounges.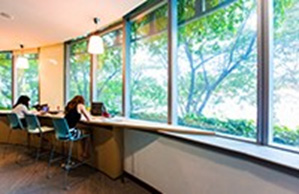 The library building showcases unique architectural features, such as the louvered windows facing Campus Green that permit abundant natural light and allow for views of the surrounding arts and cultural district; skylights and light wells that infuse the interior spaces with natural brightness; and greenery that cascades down the library's modern, curvilinear facades. The Foyer Entrance features a unique art piece - "Sea of Learning", the winning entry of the Public Art Competition jointly organised by the Li Ka Shing Foundation and SMU. The knowledge fountain, a wonderful artistic creation, on the roof garden terrace displays knowledge in different forms.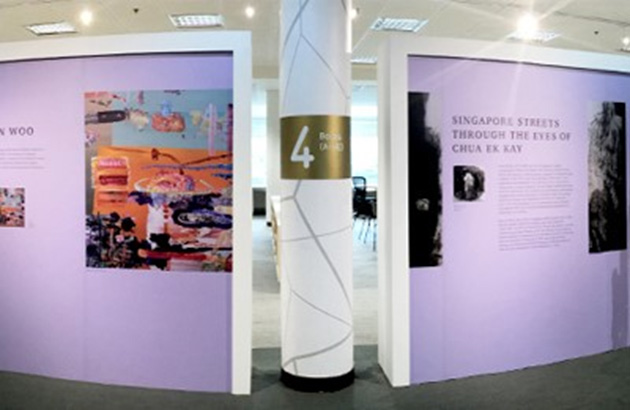 art@level4  is a dedicated exhibition space at Level 4 of the library. The exhibition space, composed of six freestanding panels, is a teeming thoroughfare with students passing through. art@level4  aims to enrich and enliven the cultural and intellectual life on SMU's city campus, and strengthen its role in the Civic District and the Bras Basah. Bugis Precinct, by showcasing artworks and exhibitions that contribute to the discourse on aesthetics, history and socio-political issues. 

The Libraries are grateful to Dr Li Ka-shing and his foundation for their generous gift and support.
Kwa Geok Choo Law Library
To celebrate and honour the life of Madam Kwa Geok Choo, SMU has dedicated its Law Library to the memory of the late Madam Kwa Geok Choo.  
Establishing the Kwa Geok Choo Law Library was first proposed in 2009. The Kwa Geok Choo Law Library building opened its doors as Singapore Management University's second library on 3 January 2017. Kwa Geok Choo Law Library is located adjacent to the Yong Pung How School of Law building, next to Fort Canning Park, taking on a distinct architectural form that is reminiscent of a pearl. 
The 2,700 square meter Law Library has the capacity to hold 16,000 print volumes and able to accommodate seating for more than 500 users. The Library provides comprehensive collection coverage to support the teaching and legal research needs of the Yong Pung How School of Law.
About Madam Kwa Geok Choo 
A remarkable and extraordinary lady 
Mr Lee Kuan Yew described his wife as his "intellectual equal" and "soulmate" – through 63 years of marriage and the nation's toughest moments and in his memoir, The Singapore Story, he called her his "tower of strength".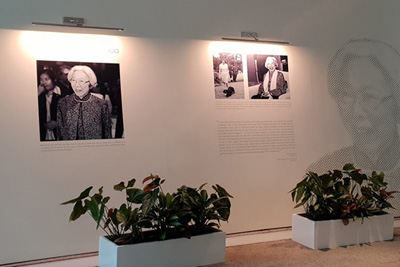 Madam Kwa Geok Choo Tribute Corner 
Madam Kwa was an esteemed lawyer and a brilliant student. In 1936, she topped the Senior Cambridge Examination for the whole of Malaya and Singapore.  In 1940, she enrolled in Raffles College, a predecessor institution of National University of Singapore, and resumed her studies there after the end of World War II.  She graduated with a First Class Diploma in Arts and won the Queen's Scholarship to study law at Cambridge University where she became the first Asian woman to graduate with first-class honours in Law.  
Madam Kwa's intellect and fortitude shone through as she applied herself in the legal arena.  She was a pioneer who started a law firm with Mr Lee and his younger brother, and then went on to excel as a conveyancing lawyer, mentoring many others in the process.  

Despite her success, the late Madam Kwa was never one for the public spotlight, yet her commitment and understated contributions to Singapore were critical to its development. A founding member of the People's Action Party (PAP), she helped to draft its constitution. Then during the 1959 general elections, she delivered her first and only party political broadcast, on Radio Malaya, speaking against the myth that women were the social, political and economic inferiors of men. Madam Kwa urged women to vote for the 5 women candidates the PAP fielded, which included the only Malay woman candidate. 
Mdm Kwa also called for legal protection for women, and supported the removal of gender discrimination at the workplace.  She asserted that women had an important place, not only as homemakers, but in public and political life. Many of the ideas she advocated in collaboration with other PAP women activists were the foundations of the landmark 1961 Woman's Charter, which promoted the practice of monogamous marriage, protected Singaporean women against physical abuse, provided them with financial protection in divorce, and gave them the right to live separately from their husbands. This Charter is the legal basis for equality between husband and wife that Singaporean women enjoy today. 

When Singapore separated from Malaysia in 1965, Mr Lee relied on her skills as a conveyancing lawyer to add in the "water clause" in the Separation Agreement. Her precise and meticulous wording became part of the Malaysian Constitution, guaranteeing Singapore's continued water supply from Johor. 
She helped to hone Mr Lee's speeches and of her assistance in writing his memoirs, The Singapore Story, Mr Lee has said that she was "one powerful critic and helper", demanding "precise, clear and unambiguous language".  
Madam Kwa believed in equipping young Singaporeans with a rigorous training in law and an appreciation of the world outside of Singapore. In particular, she wanted bright students from needy families not to lose out on opportunities to further their studies and always to be mindful that they must, when able, serve the community in various ways.