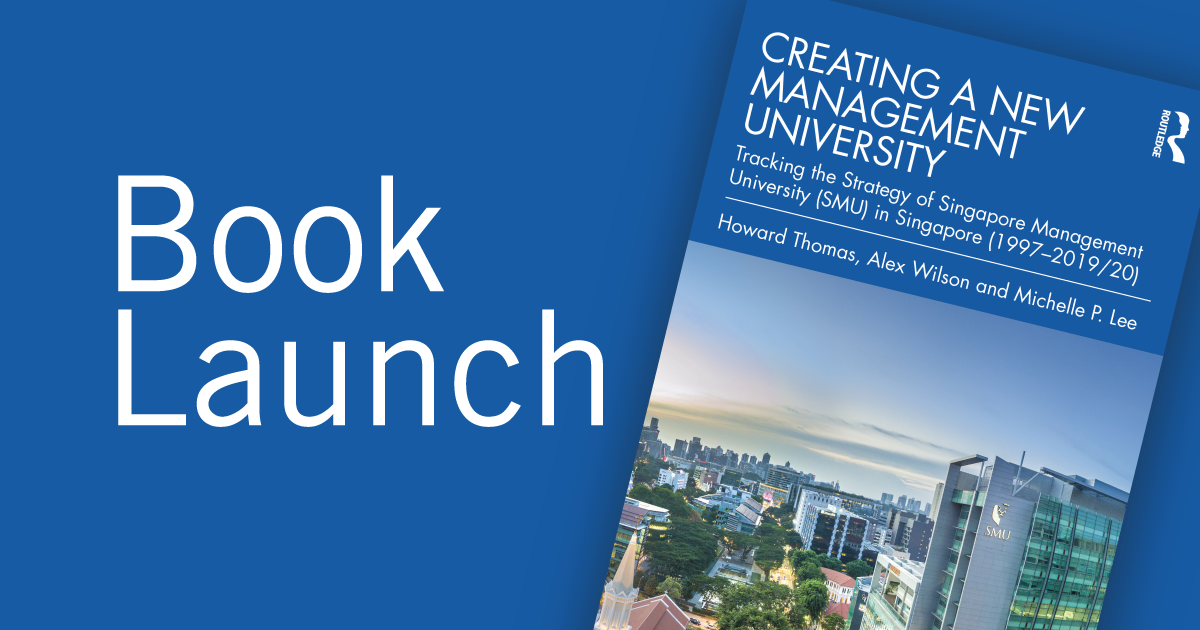 Creating a New Management University
Tracking the Strategy of Singapore Management University (SMU) in Singapore (1997–2019/20)
By Howard Thomas, Alex Wilson, Michelle P. Lee
Thursday, 27 October 2022, 5:15 PM - 6:10 PM (SGT)
Online via Zoom
Innovative, entrepreneurial universities play an important role in driving social and economic progress in a nation. Against the background of a thriving, young nation that is striving to build a knowledge economy, we examine the case of the Singapore Management University (SMU). We look at the conditions that led to its founding, evidence for the successes and failures it has had, and why it is considered one of the most significant success stories of an entrepreneurial university in recent times. The book tracks the evolution of SMU's strategy through different stages of its growth, using a combination of data from interviews, archival resources, internal documents, and news media. It also examines whether it has fulfilled its promise as an entrepreneurial university and a change agent in Singapore's higher education landscape.
*Creating a New Management University: Tracking the Strategy of Singapore Management University (SMU) in Singapore (1997 - 2019/20) is available for purchase at a discount rate of 30% with the code CNMU30 from 27 October - 26 November 2022.
---
Programme
---
SMU Libraries Welcome
Ms Shameem Nilofar
University Librarian, Singapore Management University
---
Opening Remarks
Professor Lily Kong
President, Singapore Management University
---
Panel Discussion
The discussion will centre around the role that SMU played in shaping the higher education scene, the reasons for its early success, and how its strategy has evolved and will need to evolve.
Panellists
Professor Arnoud De Meyer
Professor Emeritus of Operations Management, Lee Kong Chian School of Business
Professor Tan Chin Tiong
Professor Emeritus of Marketing, Lee Kong Chian School of Business
Dr Nadir Zafar (BBM 2004)
SMU Alumnus, Pioneer Batch,
Chief Experience Officer (CXO), Human Capital Leadership Institute (HCLI)
Moderator:
Ms Tan Siok Sun
Author and Chair, Wild Rice Ltd
---
---
Virtual Book Launch & Closing Remarks
Professor Howard Thomas
Professor Emeritus of Strategic Management & Management Education, Lee Kong Chian School of Business
---
Supported by