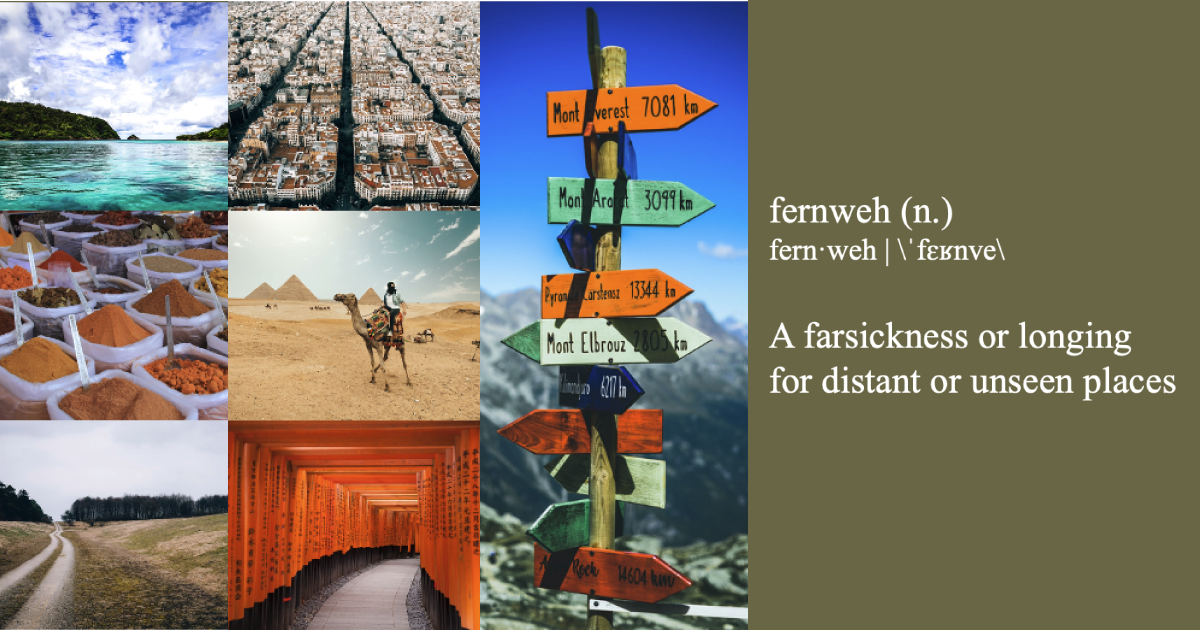 Dear SMU Community,

As COVID-19 continues to disrupt the world and our ability to travel, many are feeling the sensation of fernweh. SMU Libraries provide a curated list of resources to let you continue exploring the world from within Singapore until travel is an option, once again.

Whether you enjoy armchair travel or are anticipating new adventures in 2022, we invite you to explore our collection of online travel guides, documentaries, podcasts, travel memoirs, and more to help you overcome fernweh as the academic year continues.
Travel Memoirs
Around the World in 80 Trains : A 45,000-Mile Adventure / Rajesh, Monisha
e-Book
Atlas Obscura: An Explorer's Guide to the World's Hidden Wonders (2nd ed.) / Foer, Joshua et al.
e-Book
Bicycling with Butterflies : My 10,201-Mile Journey Following the Monarch Migration / Dykman, Sara
e-Book
The Art of Travel / De Botton, Alain
e-Book
The Third Pole : Mystery, Obsession, and Death on Mount Everest
e-Book
West with the Night / Markham, Beryl
e-Book
Winter Pasture : One Woman's Journey with China's Kazakh Herders / Juan, Li
e-Book
World Travel : An Irreverent Guide / Bourdain, Anthony et al.
e-Book
Travel Books
e-Book
e-Book
e-Book
e-Book
e-Book
e-Book
e-Book
e-Book
e-Book
Lonely Planet Israel and the Palestinian Territories
e-Book
e-Book
e-Book
e-Book
e-Book
e-Book
e-Book
e-Book
e-Book
e-Book
e-Book
e-Book
e-Book
New York Times Travel*
*How to access NYT content as a SMU user:
One-time registration is required using your SMU email address. After you have successfully created your account, you can access the content via website or mobile App.
Articles
Amid the pandemic, an adventure addict finds solace in imagination
Stuck at home? The best 18 'Armchair Travel' opportunities from 7 continents
Voyage around my room: Lessons on marveling at the minutiae of our homes in isolation
Documentaries
Podcasts