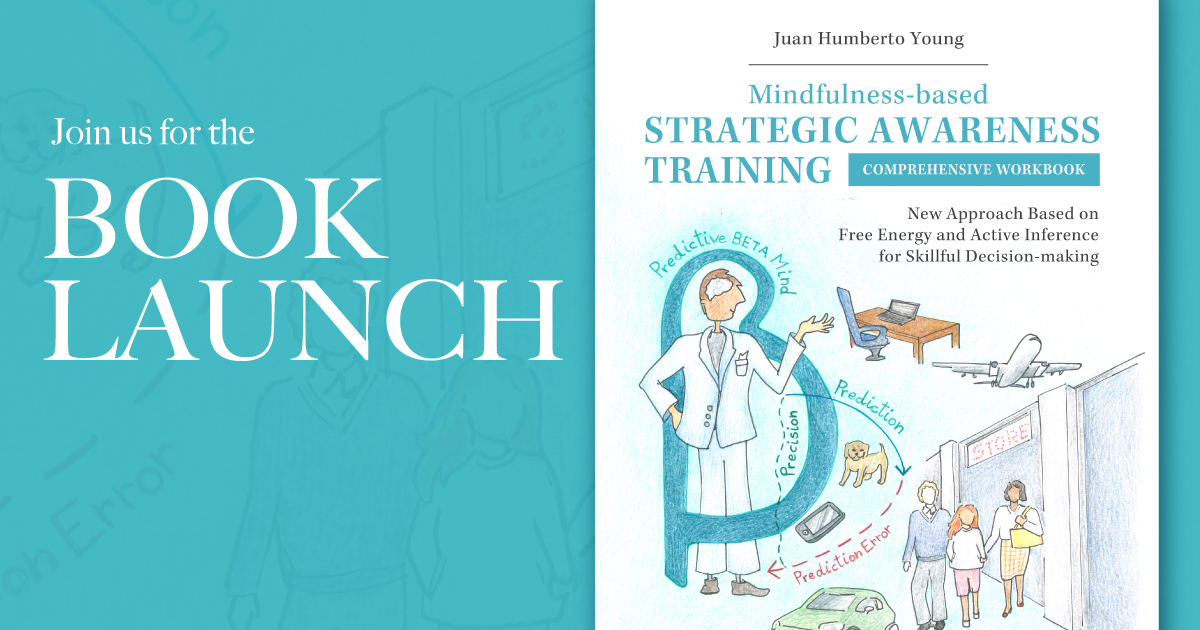 The Mindfulness Initiative & SMU Libraries Present
A Book Launch Event:
Mindfulness-based Strategic Awareness Training (MBSAT) - Comprehensive Workbook
Wednesday, 24th May 2023, 5 PM - 6 PM (SGT)
Li Ka Shing Library, Learning Lab 1 & 2, Level 5
The ongoing changes in the world require a radically new, integrative mindset and heightened strategic awareness. We cannot tackle the challenges we face individually and as humankind unless we drastically improve our perception and decision-making capabilities.
SMU Libraries are the first institution to receive copies of the Mindfulness-based Strategic Awareness Training (MBSAT) Workbook, a brand-new book published by Wiley, available in bookstores in June/July only. The book launch at SMU Libraries give you the opportunity to get first-hand information on what the book is about from the author himself, Dr Juan Humberto Young. In a nutshell, Mindfulness-based Strategic Awareness Training (MBSAT) is a mind-learning methodology designed to strengthen and systematically cultivate the abilities we urgently need to successfully navigate our difficult times. It is based on the latest findings in computational neuroscience, translated into an easily understandable language and converted into straightforward, implementable practices that everyone can apply in professional and private life. Most importantly, the training practices the book offers are moulded into a format that allows active people to include them in their busy daily lives. The goal of the book and its author is to generate lasting wellbeing for practitioners and contribute to making the world around us a good place for ourselves, our fellow human beings, and the environment.
Copies of the book will be sold at the event.
About the Speaker:
Juan Humberto Young is the author of "Mindfulness–Based Strategic Awareness Training" (MBSAT, 2017, Wiley: Oxford) and the MBSAT Comprehensive Workbook about to be launched (2023, Wiley: Oxford). He has many years of professional and business experience in leading positions in banking and various industries and as entrepreneur and investor. He grounds his work in lifelong academic education ranging from Finance and Risk Management to Positive Psychology and Mindfulness-based Cognitive Therapy at distinguished universities. He has also extensive teaching experience in corporate development programs and at universities and is the lead instructor in the Mindfulness-based Strategic Awareness Teachers Training (MBSAT TT) program of Singapore Management University - SMU.
---
Programme
---
Welcome Address by Professor Jochen Reb
Professor of Organisational Behaviour & Human Resources
Director, Mindfulness Initiatives
---
The workbook of Mindfulness-based Strategic Awareness Training (MBSAT) presents a paradigm shift in mind training. The human brain is no longer viewed as reacting to external stimuli but as a predicting organ. This changes the focus of mind training. Now it is about becoming aware of the beliefs driving predictions and the generative models in our brain.
The paradigm shift is based on advances in neuroscience that are usually described in complex mathematical formulas. The workbook converts these abstract studies into an easy-to-understand language and easy to implement practices to train new patterns of perceiving, thinking and acting.
The ancient practices of mindfulness and meditation are still integrated in the workbook, yet in a modern, secular and easily implementable form. Their purpose is to cultivate awareness of our brain models and create the necessary calm and clear-sightedness for good decisions.
The ultimate goal is to enable good decision-making, because good decisions are the basis for sustainable wellbeing and fulfillment in life. We take thousands of decisions every day. Some may be inconsequential, others are of utmost importance and taken together they shape our life.
---
---
Closing Address by Professor Jochen Reb
Professor of Organisational Behaviour & Human Resources
Director, Mindfulness Initiatives