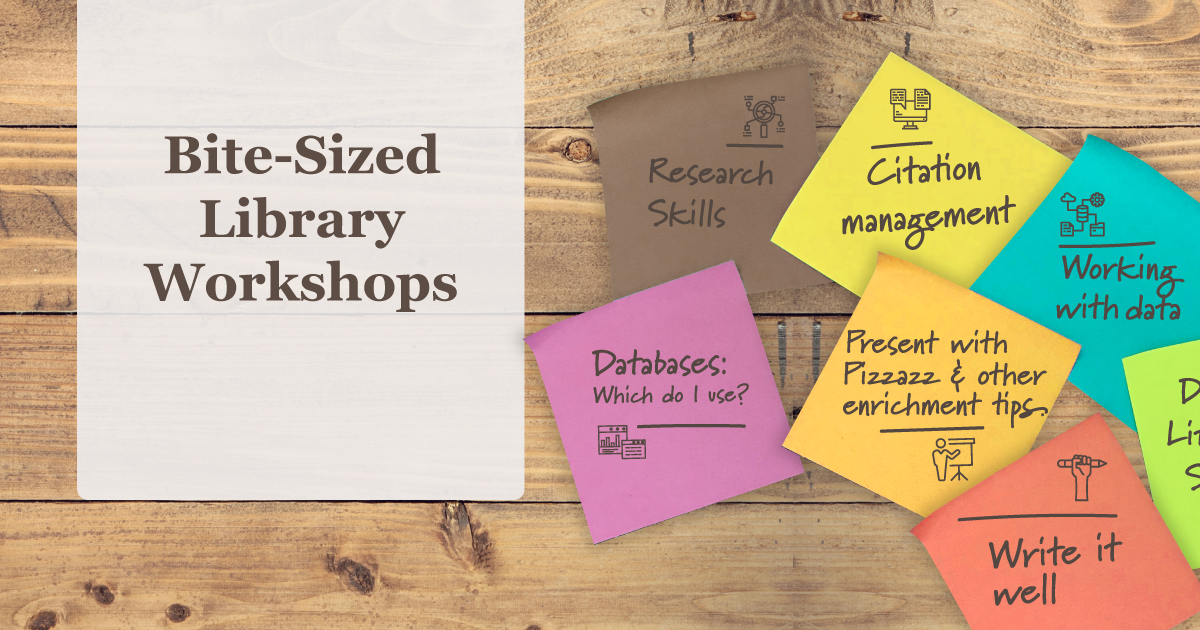 Bite-Sized Library Workshops are here again.
Join librarians and other campus partners such as SSC, IITS, MWKLSWC, and Faculty from 17 January to 25 February 2022 to learn more about research skills and database searching, working with data, writing persuasively and presenting confidently, workplace readiness tips and many other topics.

Sign up for your "bites" today!
---
RESEARCH & DATABASE SEARCHING
---
WORKING WITH DATA
---
WRITE & PRESENT WITH PIZZAZZ & OTHER ENRICHMENT TIPS
---
FROM UNI TO INDUSTRY
Research Skills for Entrepreneurs to Be
With Sumita Govindan, Research Librarian, Business, Melody Chin, Research Librarian, Economics, Xia Wei, Research Librarian, Computing and Information Systems & IIE
Looking to start on your entrepreneurial journey? Join us to find out resources you can leverage from SMU Libraries and the Institute of Innovation & Entrepreneurship.

---
CITATION MANAGEMENT & METRICS SUITE
Zotero - Need to get organized fast?
With Rebecca Maniates, Research Librarian, Social Sciences
Learn how to use Zotero to collect and manage your references and PDFs, insert in-text citations into a Word document and format your bibliographies automatically.

How to Read and Write APA Citations
With Chai Yee Xin, Research Librarian, Law
Learn how to cite effectively in APA 7th edition by learning how to understand APA citations and how you can check the format with ease with these simple rules.

---
Visit the Bite-Sized Workshops website for registration and description of over 40 workshops.
Please note that workshops will be held online and links will be sent to you upon successful registration, so do sign up ahead!