Please click here if you are unable to view this page.

 

From the Desk of Gulcin Cribb
University Librarian

 
 

 

SMU Libraries has a number exciting initiatives brewing in 2019. First of all many of the required textbooks which have been available as print copies in the Reserve Collection are now available 24/7 as e-textbooks. We have been able to negotiate an arrangement with a few major textbook suppliers to bring this service to the SMU community. Here is the link to the list of these textbooks.

The range and number of workshops offered through the Bite-Sized workshops have been expanding every term, thanks to other campus partners such as CEC, SMU Mindfulness Initiative and Prof Kam from SIS. There is something for everyone! From Business Beyond Borders to Getting Started with Bloomberg to GIS.

Another focus in 2019 will be preparations for research data management service for researchers in collaboration with the Office of Research and Technology Transfer and IITS. This is a new area that we are excited about in supporting and collaborating with SMU researchers.

Finally, I would like to highlight the role librarians have been playing to support faculty and students' complex research needs. They are highly skilled and knowledgeable in facilitating discovery of the relevant information, data and tools in the most cost-effective and efficient way. You can chat with them through 'Ask A Librarian' or simply email (library [at] smu.edu.sg) or call 6828 0355.

Have a wonderful New Year!

Gulcin Cribb
University Librarian
---
Bite-sized Library Workshops 

Bite-sized workshops arrived early this term. Join the librarians and other campus partners from 15 January through 1 February to learn more about working with data, writing persuasively, and more. A new 3.30pm time slot has been added for some of the workshops. 
---
 

Prevent Plagiarism Design Competition

Calling all SMU aspiring artists and creators! Participate in the Prevent Plagiarism Design Competition and stand a chance to win cash vouchers. The competition is open until 1 February 2019, 11:59 p.m.

Theme: 
Promote integrity through avoiding plagiarism 

Medium: 

Short Video
Poster
Name Tent
---
Library Book Display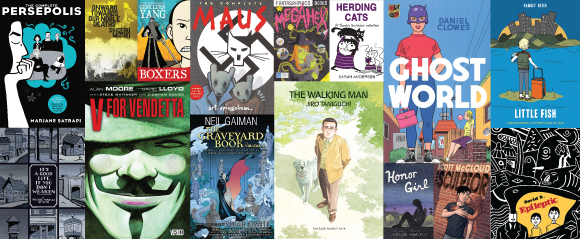 For the month of January, the library has curated a series of graphic novels ranging from timeless classics to contemporary stories. Pop by the Li Ka Shing Library from 23 January through 30 January to check out these novels.
---
| | | |
| --- | --- | --- |
| |   | |
|   |   |   |
| How much sleep do you get daily? More than nine hours? Or is life too glam for sleeping? Participate in the fun poll or browse curated book collections through the new touchscreen display at level two of Li Ka Shing Library. |   | Do you know you can now print in the Kwa Geok Choo Law Library Learning Commons? |
---
He Says She Says
The feedback:
Can we have a hole puncher & stapler in the printing room? Probably would not cost much and will increase efficiency. 
The response:
'allo binder-dude/dudette
A long long time ago, there used to be hole punchers and many staplers in printing rooms. But they kept disappearing. 
The custodian of printing room then tied them down with rubber bands - they disappeared even faster. 
She tied them down with wires - still disappeared. 
She finally tied them with anti-theft steel cable. This time, it lasted longer, until the entire stapler, cable, and table disappeared. 
Fed up, she put the staplers on the library desk. This time the staplers stayed put. She concluded that the staplers probably got lonely in the printing room, hence the disappearances.
Anyway, we'll convey your feedback!
---
You prefer the library for...

---
Our Passion, Our Commitment, Your Advantage
SMU Libraries - Email: library [at] smu.edu.sg - Tel: 6828 0355