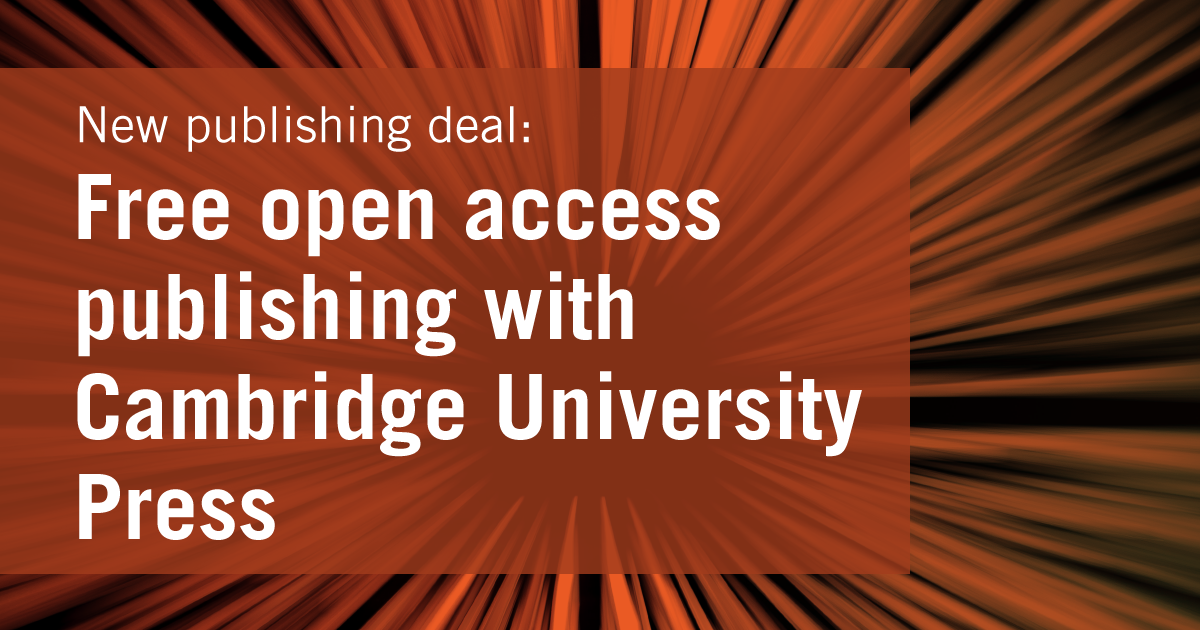 by Dong Danping, Librarian, Research Services & Ooi Kooi Cheng, Senior Librarian, Collection, Access and Discovery
SMU Libraries have been traditionally paying for subscription deals to provide read access to academic publications for the SMU Community. Researchers who wished to make their papers Open Access on publisher platforms would usually need to pay a separate charge – the Article Processing Charge (APC) from their own funds.
This has now changed! In 2023, SMU Libraries signed the "Read and Publish" deal with Cambridge University Press (CUP). This is great news for researchers who are the corresponding authors publishing or planning to publish with CUP, as their articles can now be made freely available, Open Access, to anyone who wants to read them, immediately upon publication, all without paying for an APC!
The questions below will help you understand the deal better and how it can benefit you.
What is this deal about?


The read and publish deal comes in two parts. Firstly, all members of the SMU community will be able to access and read CUP journals. This part remains the same. On top of this, the deal by SMU Libraries also allows SMU researchers to publish in CUP journals via the Gold Open Access (see next question) route without any additional charge.

What is Gold Open Access and APC?


Research articles are often behind a paywall and requires library subscription to access. The Open Access movement works to make more papers free to read for everyone, but someone has to bear the cost of publishing.

There are multiple business models and one of the business models that is popularly employed by publishers involves charging a fee called "Article Processing Charge (APC)" to make the final published version of your article open access immediately upon publication on the journal platform (Gold Open Access).

See also our article on the different favours of Open Access.

What are some of the benefits of publishing Open Access?


Open access articles are available to anyone with an internet connection. People do not need to pay to read your article or access it through a library or research institution. This means that your article can potentially reach a wider audience and make more meaningful impact.

Did you know that 75% of OA articles get more citations than their non-OA equivalents, receiving on average 30-50% more citations?

See also our article on the evidence for Open Access Citation Advantage.

Who typically pays for the APC?


APC may be paid by funders, institutions, or researchers at the individual article level. At SMU, researchers rarely pay APCs, and when they do, they tend to bear the cost out of their own research fund or DART fund.

SMU researchers may pay APCs when publishing in 100% Gold Journals such as PLOS One where every article needs to be made Open Access or less commonly for "hybrid journals" which are ordinary subscription journals but authors who have accepted manuscripts may choose to pay the APC to make just their papers free to access.

In the new "Read and Publish" deal with Cambridge University Press, the cost of APC is waived for researchers because it is already covered via our Read and Publish Deal.

Why not just deposit the paper into our Institutional Repository INK or other repositories like SSRN, ArXiv?


While you can continue to do so, do note that for many journals you may not be allowed to legally deposit the final published version immediately. Check the journal policy here. With Read and Publish deals this will no longer be a problem.

What does it mean for me?


If you are publishing an article with CUP as the corresponding author of a paper now or in the future, remember that you can benefit from this deal to make your paper gold open access at no additional cost. Furthermore, you get to select the Creative Commons licence which specifies how your paper may be used by others (e.g. commercial use? Text mining use?) and retain the copyright to your article!

Now my paper is accepted by CUP. What do I need to do to benefit from the deal?


Upon paper acceptance, you will receive an email for you to complete an Author Publishing Agreement. This is what you need to do:

Complete the Author Publishing Agreement. Remember to select a Creative Commons License. If you are not sure, consider using CC-BY or consult your librarian. Submit the completed form to CUP.
Begin Rightslink process. You will receive an email from the Rightslink platform with instructions to pay for APC. Register for an account if you don't have one.
APC transaction. Do not pay for APC yourself, instead, look for the option to seek funding from SMU on the Rightslink platform. If you select 'seek funding', you will be able to view the APC cost and submit your request, which is automatically approved for SMU researchers.
Confirmation. You will receive an email confirmation and your article will enter production.

Does SMU Libraries have similar deals for other publishers, e.g., ACM, Elsevier or Wiley?


As of March 2023, SMU has signed Read and Publish deals with CUP, as well as Association for Computing Machinery (ACM). More details about the ACM deal will be discussed in next month's ResearchRadar. We are open to exploring similar deals with other publishers, so let us know which publishers you would like us to work with.

In the meantime, to publish open access with other publishers, you may opt for Green OA by uploading the accepted version of your paper in IRIS or send it to library@smu.edu.sg. It will be made open access on InK which has great visibility on search engines.

Does it apply to papers published in the past?


No, the publishing deals only apply to papers published from January 2023 onwards.
If you would like to find out more or need help, contact library@smu.edu.sg.
Additional Resources
Cambridge University Press. Publishing Open Access. https://www.cambridge.org/core/services/authors/journals/publishing-open-access