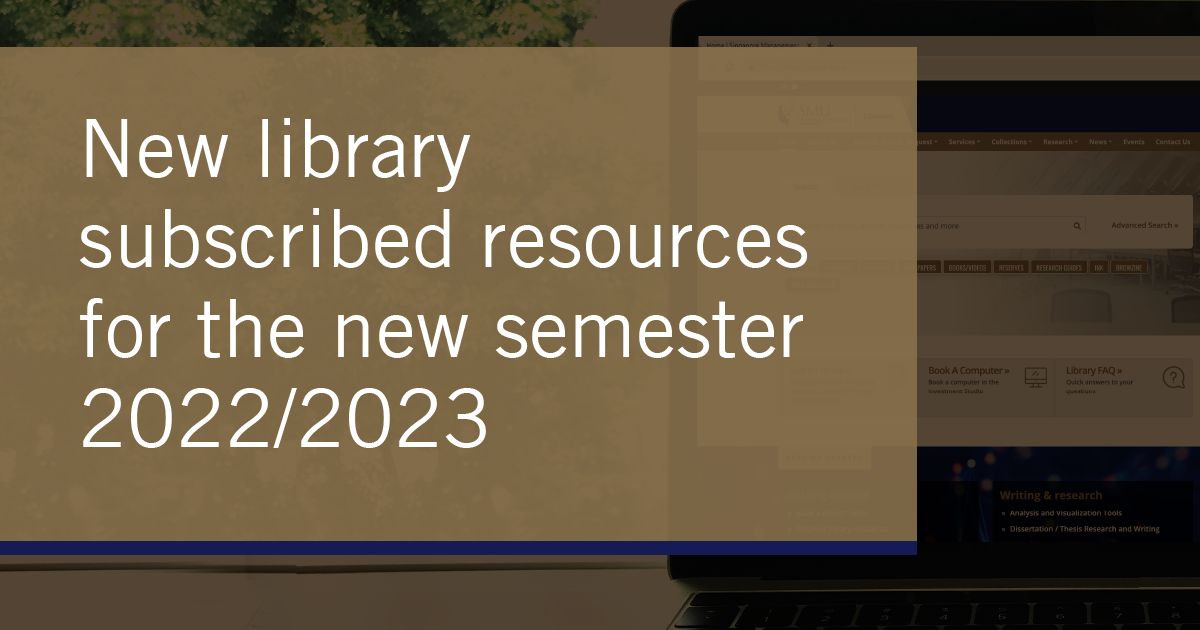 by Aaron Tay, Lead, Data Services
Welcome back to SMU! As always SMU Libraries have been hard at work optimising our resources for your research and studies. Here are some new resources available via the library that you may not be aware of.
Financial and Economic Data
ETF Global via WRDS

ETF or Exchange Traded Funds have become a popular investment vehicle for both institutional investors and retail investors. The ETF Global dataset made available via WRDs gives you access to data on US-listed ETFs. Look up ETF product details like expenses, AUM (Asset under management), Bid-ask Spread, ETF daily fund flows, ETF Constituents and more. Developed for more than a decade, the ETF Global dynamic, quantitative research models integrate Fundamental Analysis, Behavioural Finance, Global Sentiment, Qualitative Evaluation and Risk Management.

FTSE Russell historical data via WRDS

FTSE Russell is a leading global index provider creating and managing a wide range of indexes, data and analytic solutions to meet client needs across asset classes, styles and strategies. Covering 98% of the investable market, FTSE Russell indexes offer a true picture of global markets, combined with the specialist knowledge gained from developing local benchmarks around the world.

UN Comtrade

The most comprehensive trade database available (over 1 billion records) continuously updated. Has import and export data reported by almost 200 countries, and standardised (to some degree) by the UN, from 1962 (selected countries) to the present.

While this database is free to access, we have a Premium Site License that allows additional options to bulk download large amounts of records via API. Contact us if you need help accessing the data.
OER and OA finder
Cloud Source OA

CloudSource OA provides a one-stop shop page for Open Access material and digital learning objects for teaching, learning, and research. This includes over 40 million Open Textbooks, journal articles and readings, as well as high-quality openly available teaching and educational resources (open educational resources) such as case studies, lecture notes, syllabus, activities/labs, games, and datasets for teaching and self-learning.
Journals, cases and other databases
Philosopher's Index with Full Text via Ebscohost

Comprehensive bibliographic database covering worldwide research in all areas of philosophy. Key areas of coverage include metaphysics, aesthetics, philosophy of religion, philosophy of language, and political philosophy.

The abstract and indexing database is now enhanced with full-text access (selected items).

vLexJustis

vLexJustis provides access to both vLex and Justis content which includes case law, legislation, journals, books, dockets, news, commentary, and more, spanning a wide range of jurisdictions including the United Kingdom, European Union, and Southeast Asia.

Oxford English Dictionary (OED)

The Oxford English Dictionary is the accepted authority on the English language, featuring the meaning, history, and pronunciation of 600,000 words. The OED traces the usage of words through three million quotations from a wide range of international English language sources, from classic literature and specialist periodicals to film scripts and cookery books. The OED includes all common words of speech and literature, including scientific/technical terms and foreign words in general use.