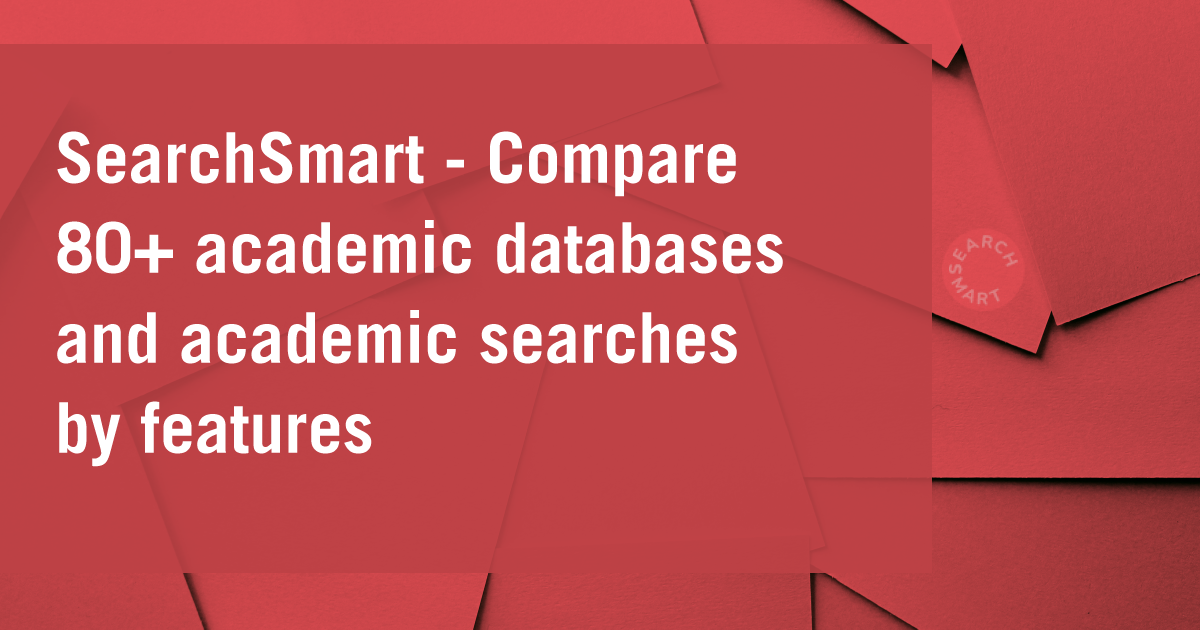 By Aaron Tay, Lead, Data Services
There are a dazzling array of academic search engines and databases today differing in both coverage and features.
Whether you are doing exploratory searches with quick and dirty searches or you are carefully planning sources to search for in a systematic review and need search engines that support precision searching it is difficult to keep track of all the systems out there even for an academic librarian like me.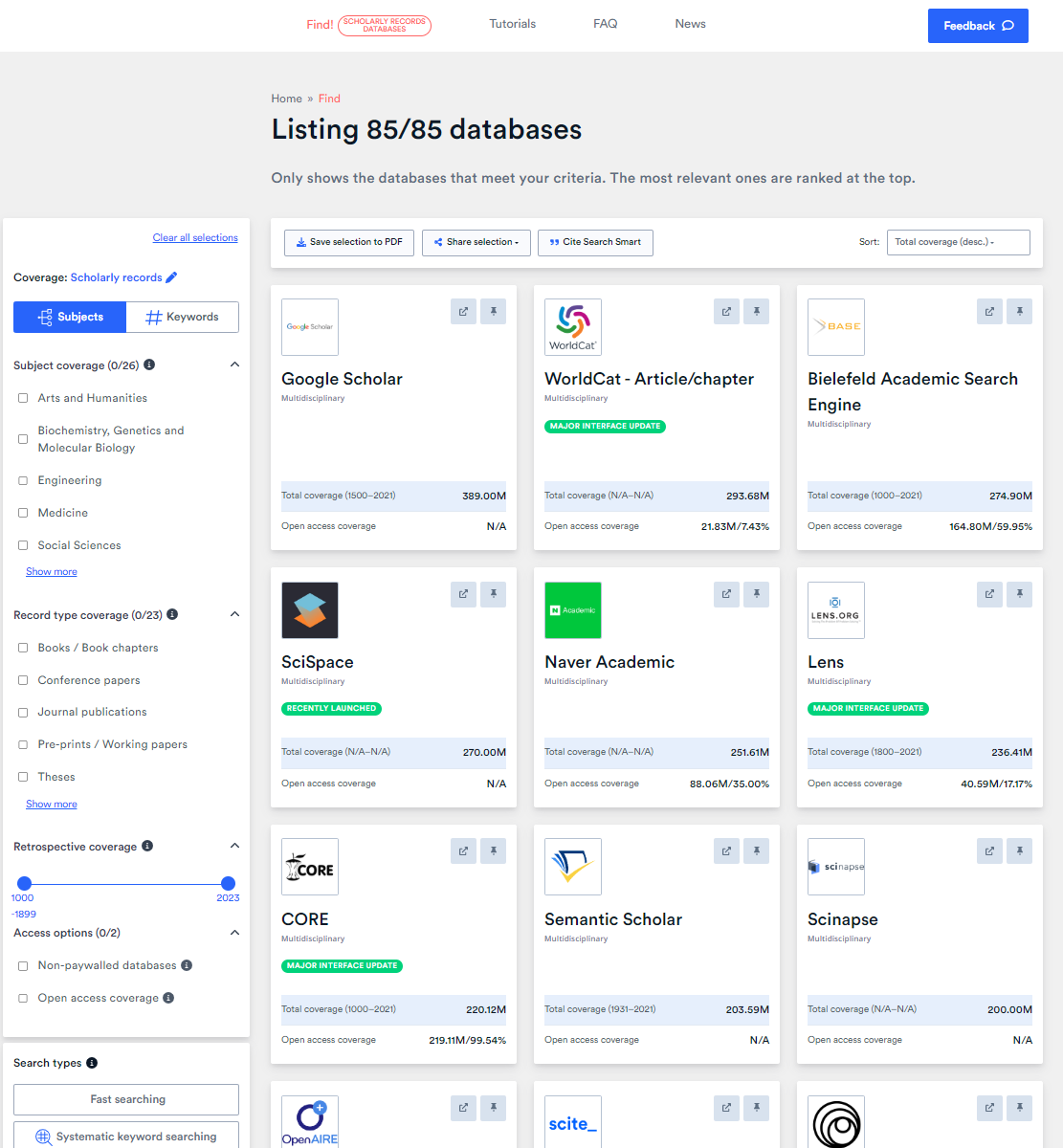 This is where the newly launched SmartSearch site by Michael Gusenbauer comes in handy.
We have covered Gusenbauer's work before in a past Research Radar under a piece entitled - Knowing where to search. Comparing the absolute and relative subject coverage of 56 databases.
This was a summary of a pair of his papers:
Gusenbauer, M., & Haddaway, N. R. (2020). Which academic search systems are suitable for systematic reviews or meta-analyses? Evaluating retrieval qualities of Google Scholar, PubMed, and 26 other resources. Research synthesis methods, 11(2), 181–217. https://doi.org/10.1002/jrsm.1378
Gusenbauer, M. (2022). Search where you will find most: Comparing the disciplinary coverage of 56 bibliographic databases. Scientometrics, 1-63. https://doi.org/10.1007/s11192-022-04289-7
The first paper listed a comprehensive series of tests on a multitude of features available across academic databases and search engines.
The second more recent paper focused on a unique methodology to estimate the relative and absolute coverage of databases across 26 subject areas (Scopus All Science Journal Classification or ASJC) by sampling from a basket of keywords, a technique that was named "basket of keywords" approach. For a more detailed explanation, see the research radar piece "Knowing where to search. Comparing the absolute and relative subject coverage of 56 databases".
While both papers test the databases extremely rigorously, they were ad hoc one-off tests and the results are dated by now.
SearchSmart which is a website by the author of these two papers aims to correct this issue and is using similar methodologies in both these papers to:
Estimate the size of each database and their relative and absolute size of each subject area
List in a granular method the features of each database
You can use SearchSmart in roughly two different ways.
Look for databases that fit a certain criterion in terms of features or relative subject coverage
Pin up to 6 similar databases for comparison
Look for databases that fit a certain criterion in terms of features or relative subject coverage
Databases / academic search engines distinguish themselves in terms of coverage and features. One obvious thing when considering databases to use is to choose academic databases or search engines that have the highest absolute or relative coverage of your subject area.
To do this, go to the filters and select one of 26 subject areas (from Scopus All Science Journal Classification or ASJC) under subject coverage and select say "Business, Management and Accounting", then select "Rank databases according to relative subject coverage" at the bottom and compare.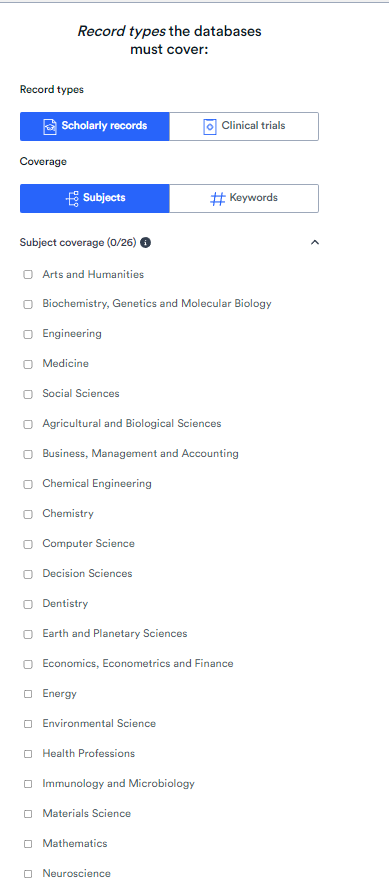 This gives you the same 85 databases included in smartsearch at time of writing but they are not ordered in terms of relative subject coverage for "Business, Management and Accounting".
At the time of writing the top databases with the highest relative coverage for that subject are
Emerald Insight – 48.52%
ABI/Inform Global – 26.88%
Business Source Complete (via EBSCOhost) -26.16%
Note this does mean these 3 databases have the absolute largest amounts of content in the subject area, (if you sort by absolute subject coverage you will see it belongs to OCLC WorldCat Journal/Article, Google Scholar, ABI inform) but there are relatively more of such content proportionally given the size of the database. This likely means you will get more relevant and precise results as opposed to using a large database but there is proportionally less business, management and accounting content.
You do not have to stop there of course, there is a huge variety of other filters you can add, such as "Record type coverage" (e.g. Theses), "retrospective coverage" which controls which publication years are covered.
No longer affiliated with a university or academic institution? Check on "Non-paywalled database" to filter down to search interfaces that do not require a subscription to search.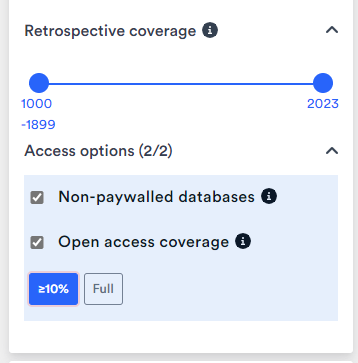 Non-paywalled databases only guarantee you can search the database without a subscription but there is no guarantee you can access the full-text.
The "Open Access coverage" filter allows you to filter to databases where either a) >10% of records are open access or b) 100% of records displayed are open access.
Of course, this just scratches the surface of the types of functions you can filter by. Below shows some of the filters and categories they are divided into.

Each category of filters is comprehensive and nuanced, allowing you to filter to very specific search details.
For example, the "Operators" category allows you to check which databases allow different Boolean Operators, Proximity Operators, exact match and support nested searches.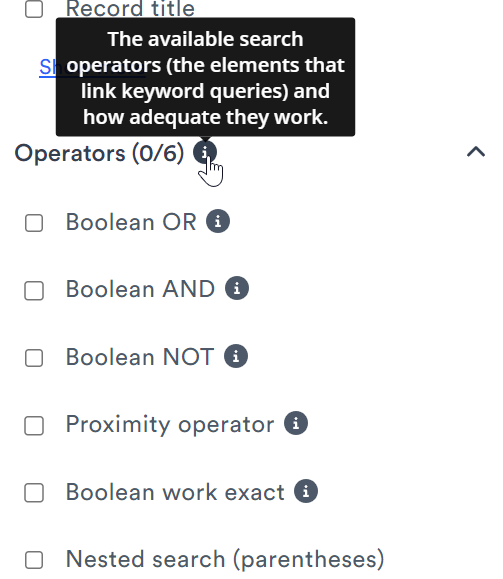 The wide variety of filters threatens to confuse but if you need ideas on what filters to use, refer to the tutorial for some canned searches.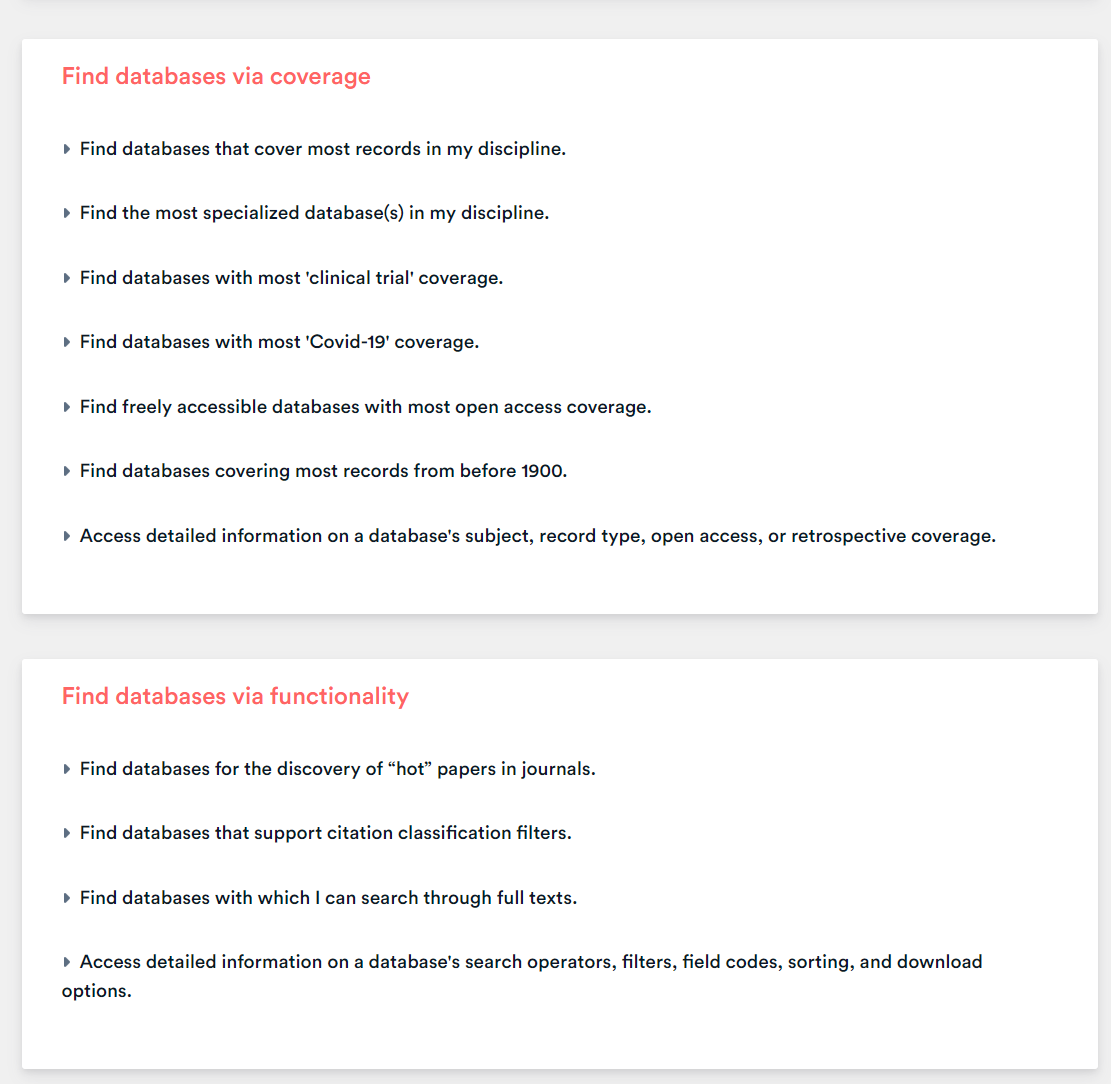 Fast searching vs Systematic Keyword searching vs Forward Citation
In SearchSmart, there are three pre-configured filters designed to find databases or search engines suitable for:
Fast Searching
Systematic Keyword searching
Forward citation searching.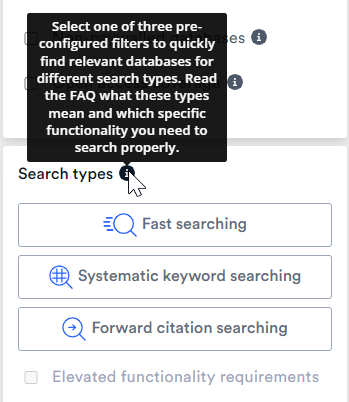 You can read the FAQ to see what functions the three search types filter. You will not be surprised that the requirements for systematic searching are the highest in terms of the functionality needed to support it.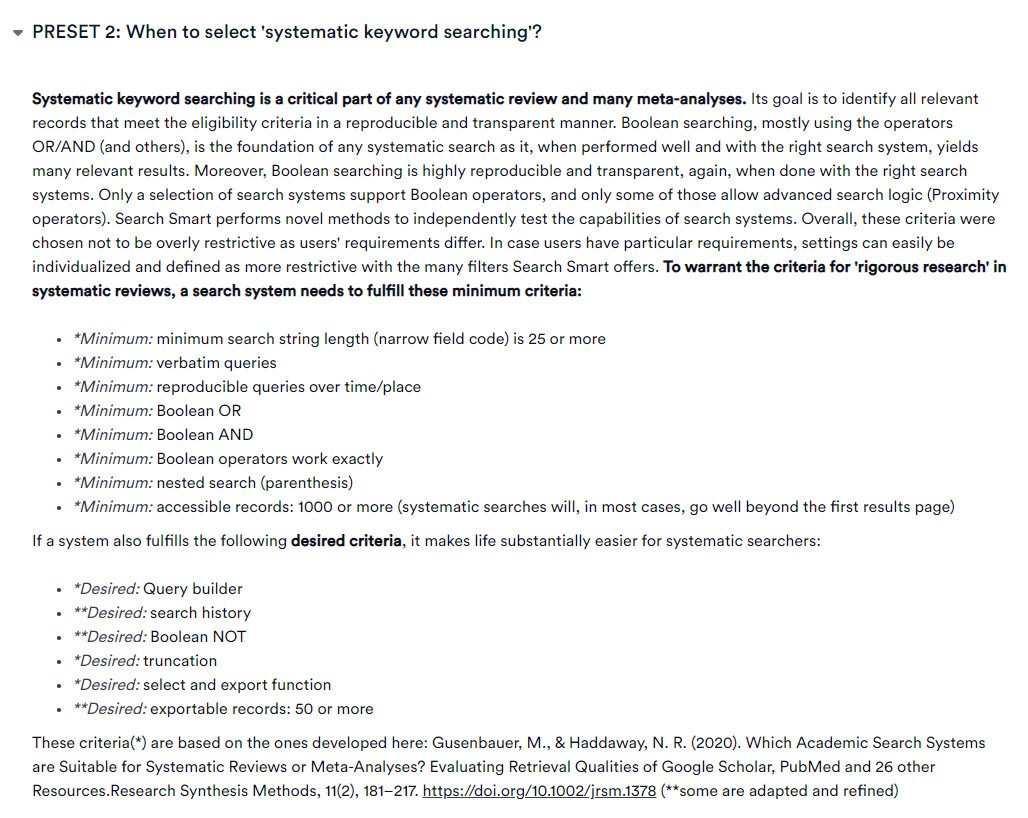 Pin up to 6 databases for comparison
You can look at the full details of every database or search engine, below shows a partial screenshot of the details pages of Lens.org.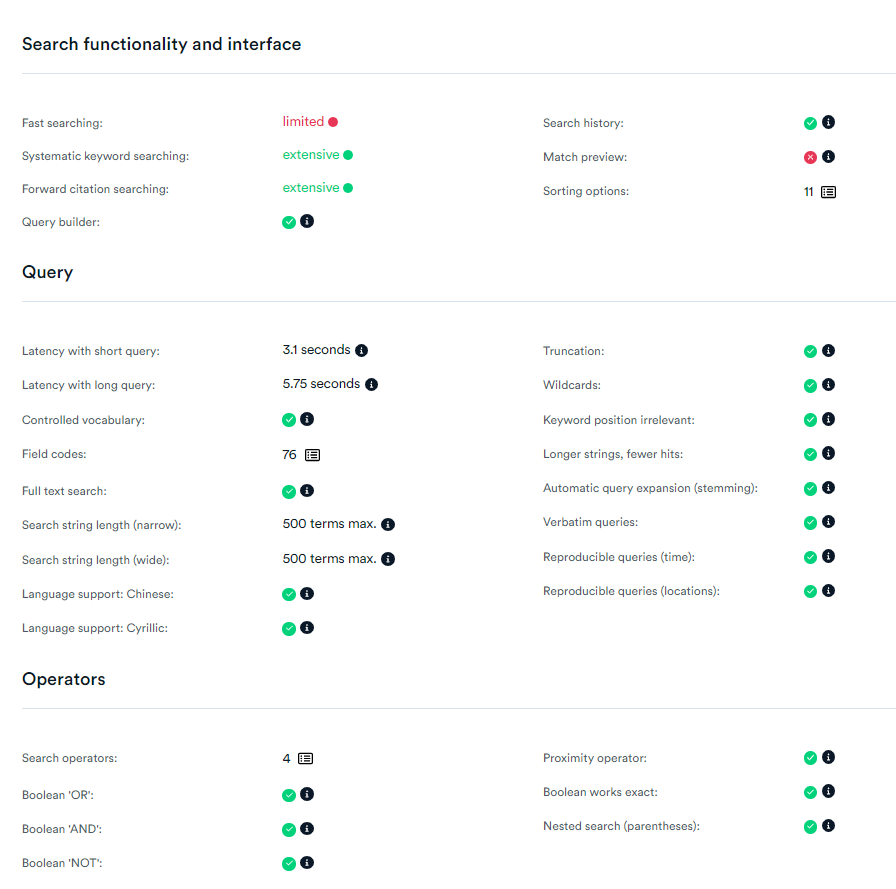 But even better would be to pin up to 6 databases and compare them.
For example, you might want to compare the "same database" (the last two are not exactly just Medline) offered by different search systems by pinning and comparing:
Medline (via OVID)
Medline (via Ebscohost)
Medline (via Web of Science)
Europe PMC
Virtual Health Library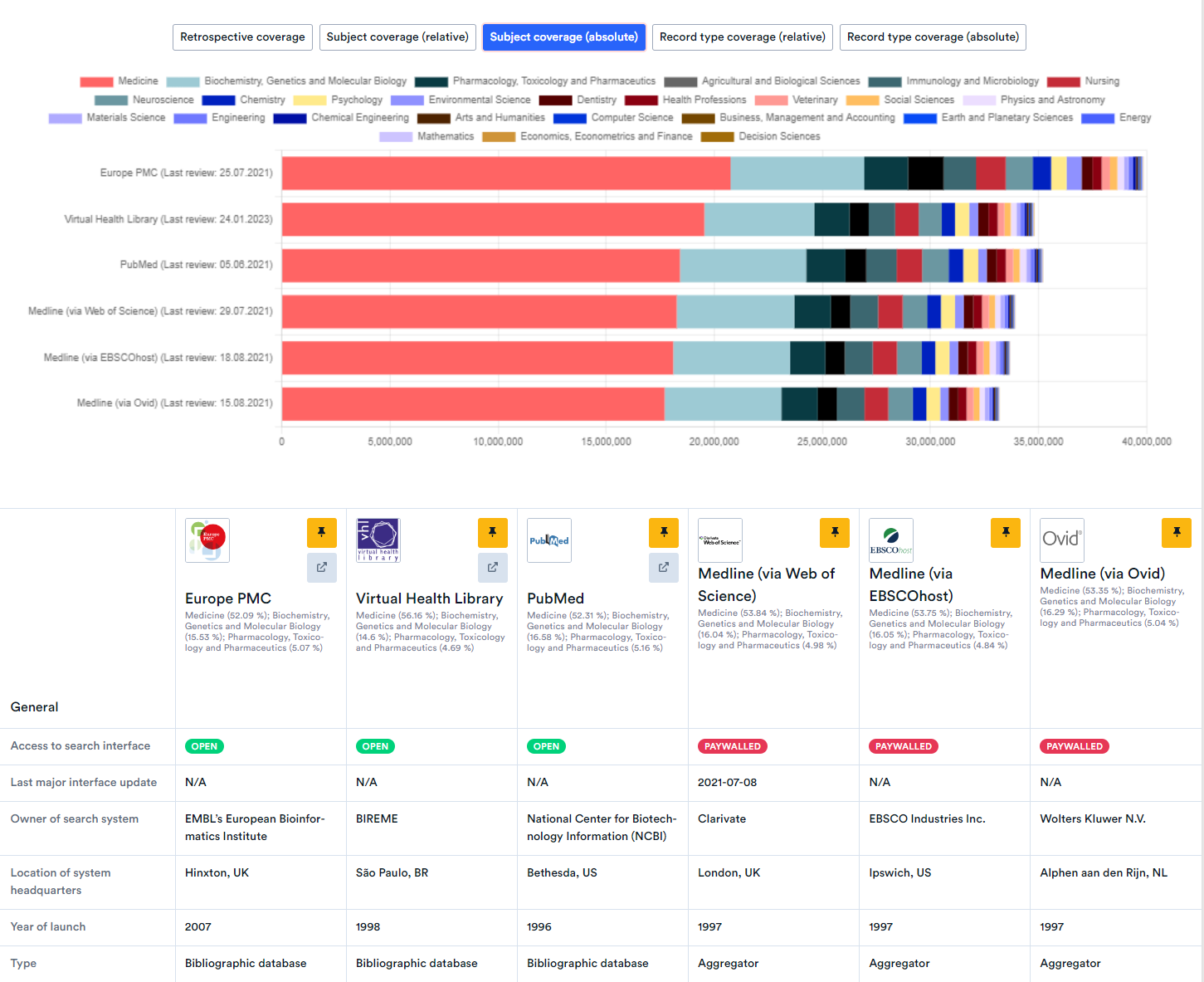 Conclusion
This is by far the most comprehensive listing and comparison of academic databases and academic search engines I have ever seen. The fact that the site promises to continuously update the details makes this website worth looking into.
This is particularly so for systematic review researchers who are looking to find promising new academic search engines suitable for their research.