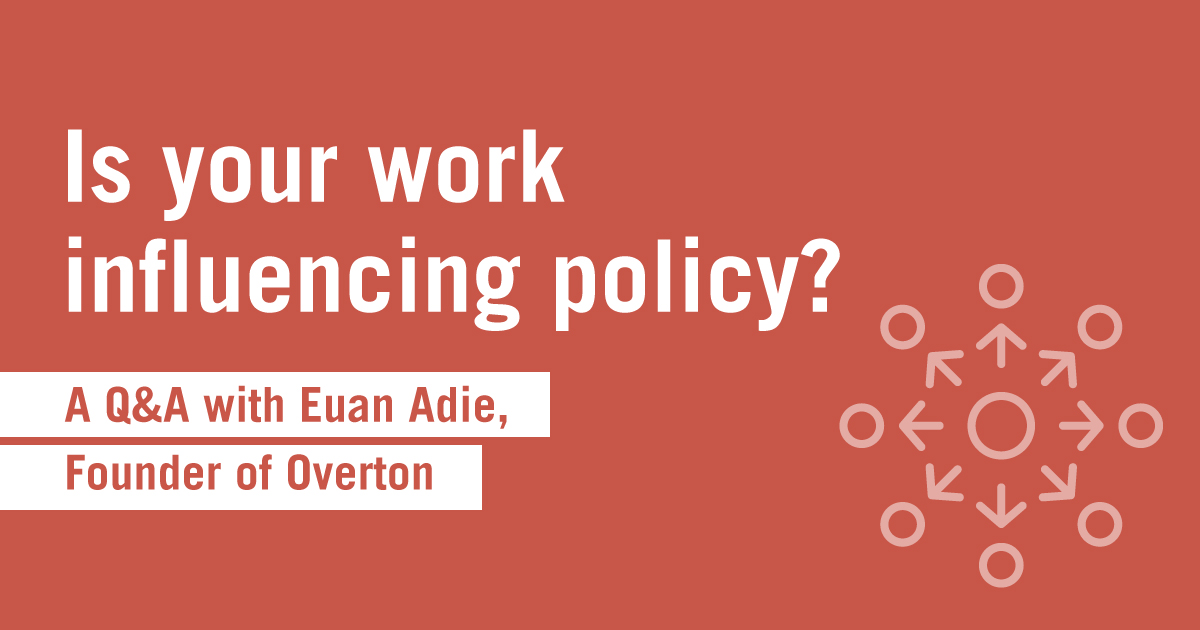 Interview questions by Aaron Tay, Lead, Data Services
Overton is a new public document database that has been recently subscribed by SMU Libraries. It claims to be "the world's largest searchable index of policy documents, guidelines, think tank publications and working papers" and covers "data from 182 countries and over a thousand sources worldwide with more being added all the time."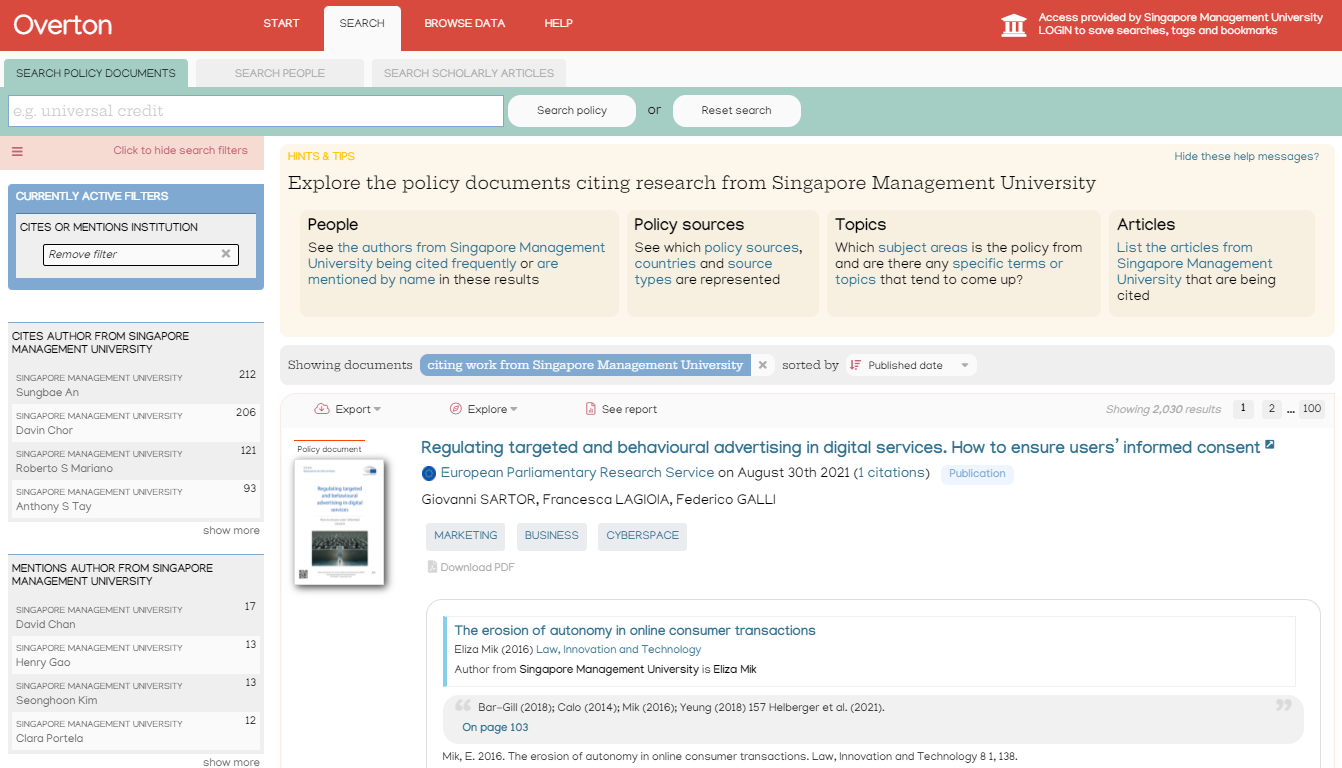 In this post, we will be interviewing Euan Adie founder of Overton on what Overton aims to do and how it can be helpful to researchers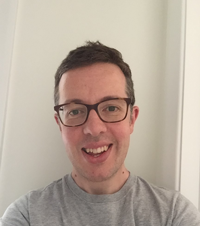 Thanks Euan for agreeing to do this Q&A. Could you please introduce yourself briefly and the goals of Overton?
Sure! I am Euan, I am the founder of Overton, where our long-term goal is to make the evidence and influences that go into government policy more transparent.
I was originally an academic, at the University of Edinburgh, and that is where I got interested in the different ways that scholarly research can have an impact on the real world. Overton tries to track and show some of that impact, as well as making it easier to find policy related content for research projects.
I understand that Overton tracks citations to published works such as journal articles but how is it different from other traditional citation indexes and discovery services like Google Scholar, Web of science and Scopus?
The main difference is in where we find those citations. We are interested in finding where scholarly work is cited in policy related documents: think tank policy briefs, government white papers, legislative impact reports and that sort of thing.
Web of Science and Scopus both index scholarly literature (things published in journals and academic books), while Overton indexes the full text of this policy literature.

We also try to go a little bit further than traditional citations and find, for example, the names of academic researchers in the text. This is something still under active development, but often academics influence policy directly rather than via their published work – as an expert at a roundtable, a speaker at a workshop, a witness in parliament – and we want to help people record and get credit for these interactions too.

What sources do Overton cover? How does Overton decide what to cover?
Generally speaking, we are interested in anything written by a policymaker or to influence a policymaker. We have got documents from around 28k organizations, grouped into 1,500 or so sources (for example the different ministries in Singapore are grouped as "Government of Singapore" (see list of Singapore Sources) and broad geographical coverage, though we are still working on some gaps in China (see list of China Sources) as well as some less developed nations.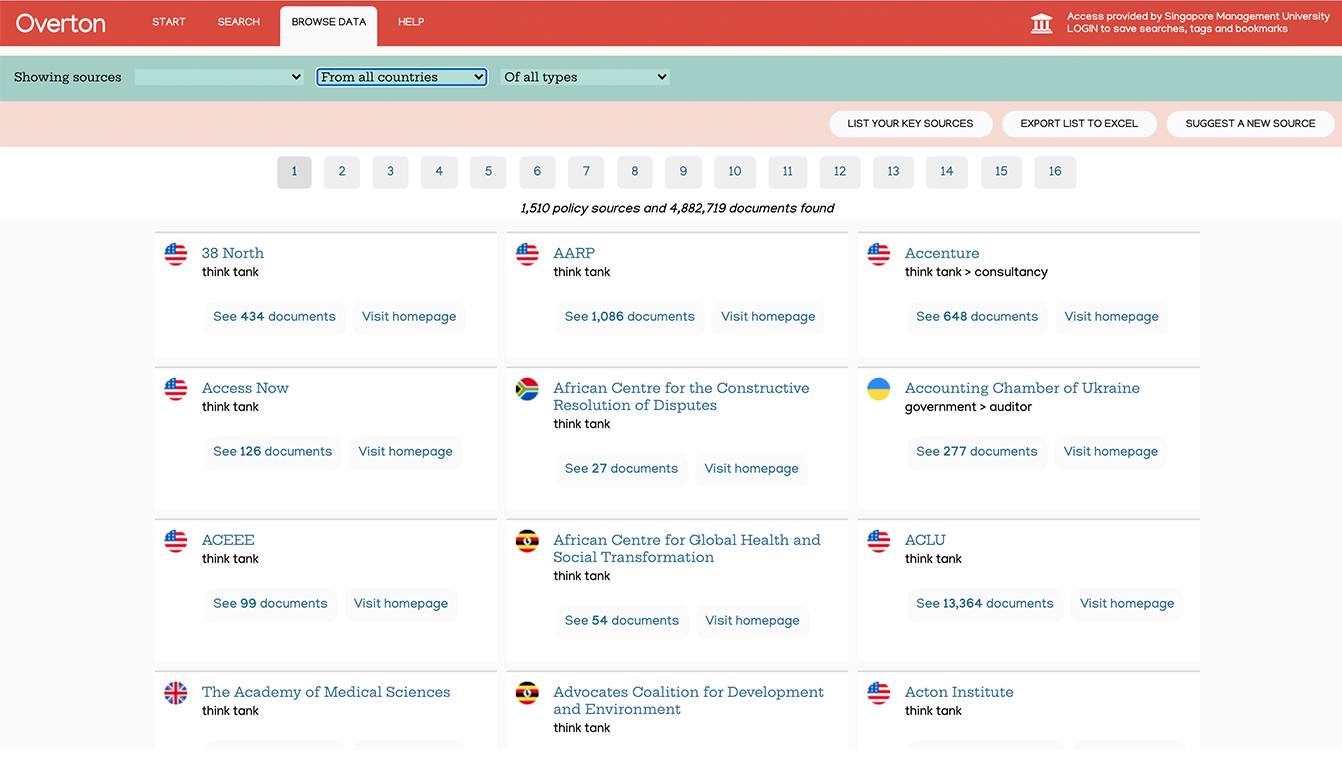 We do not typically track the actual text of legislation, the laws themselves, rather we're interested in the work that went into drafting them and then any discussion of them afterwards.
We only collect documents that are publicly available on the web, so to some degree we're driven by availability. Some policy activity is always going to be secret, or politically sensitive, or just never captured in a way that we will see.
Overton does not seem to cover <insert policy document site>? Any chance Overton could consider indexing it?
Absolutely! We love suggestions and if it fits what we are looking for – as above - and technically possible will try to add them as soon as we can.
Note from Librarian : If you are interested in
Overton
indexing policy documents from sites that are not currently included (see
sources
), please contact the Libraries, we are looking for new sources to index e.g.
SEC
,
IASB
etc
My name does not turn up when I search in the people tab, however when I search in the policy documents by keyword it turns up. What are some possible reasons for this?
Behind the scenes we try to keep a big up to date list of possible researcher name and affiliation pairs. We do that by looking at the author lists of papers we know have been cited in policy and pulling out names from there. We are searching for names on that list to populate the People tab.
Unfortunately, the list is incomplete which is why some researchers do not appear. We are working on some ways to solve this issue (in the longer term signing up and maintaining an ORCID will help). In the meantime, please let us know directly if you are affected and we can address it directly.
What other improvements can we expect to see on the roadmap in the next 12 months?
Apart from general improvements to source coverage and citations we are interested in making it easier to see how research can affect policy via intermediaries.
As a general rule, the closer to the actual legislation you get the less likely it is that a policy document will cite any academic research. Usually there are translation steps involved: for example, a journal article may be cited in a think tank briefing or a government agency technical report, which in turn is then cited by a white paper or guideline. We want to make it easier to find these indirect impacts to see where your paper eventually leads.
We are also planning on expanding how you can get data out of the system, to use in emails, reports and presentations: we would like to make it easy to be alerted when your name or work pops up in policy somewhere internationally.
Thank you, Euan!
Does the interview pique your interest in Overton? Explore Overton today.
Librarians are happy to answer any questions that you might have, or provide an overview demo of Overton on request.