To celebrate and honour the life of Madam Kwa Geok Choo, SMU has dedicated its Law Library to the memory of the late Madam Kwa Geok Choo.
Establishing the Kwa Geok Choo Law Library was first proposed in 2009. The Kwa Geok Choo Law Library building opened its doors as Singapore Management University's second library on 3 January 2017.
About Madam Kwa Geok Choo
A remarkable and extraordinary lady
Mr Lee Kuan Yew described his wife as his "intellectual equal" and "soulmate" – through 63 years of marriage and the nation's toughest moments and in his memoir, The Singapore Story, he called her his "tower of strength".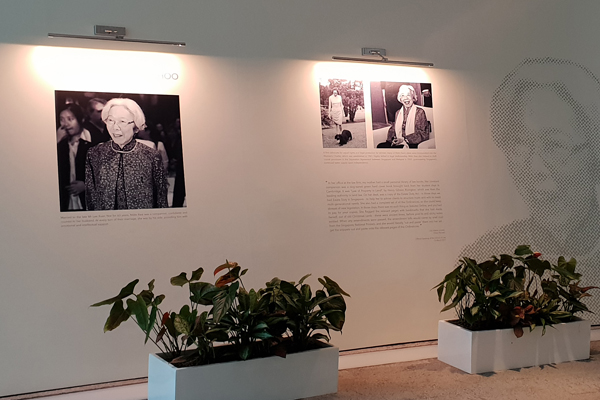 Madam Kwa Geok Choo Tribute Corner
Madam Kwa was an esteemed lawyer and a brilliant student. In 1936, she topped the Senior Cambridge Examination for the whole of Malaya and Singapore. In 1940, she enrolled in Raffles College, a predecessor institution of National University of Singapore, and resumed her studies there after the end of World War II. She graduated with a First Class Diploma in Arts and won the Queen's Scholarship to study law at Cambridge University where she became the first Asian woman to graduate with first-class honours in Law.
Madam Kwa's intellect and fortitude shone through as she applied herself in the legal arena. She was a pioneer who started a law firm with Mr Lee and his younger brother, and then went on to excel as a conveyancing lawyer, mentoring many others in the process.
Despite her success, the late Madam Kwa was never one for the public spotlight, yet her commitment and understated contributions to Singapore were critical to its development. A founding member of the People's Action Party (PAP), she helped to draft its constitution. Then during the 1959 general elections, she delivered her first and only party political broadcast, on Radio Malaya, speaking against the myth that women were the social, political and economic inferiors of men. Madam Kwa urged women to vote for the 5 women candidates the PAP fielded, which included the only Malay woman candidate.
Mdm Kwa also called for legal protection for women, and supported the removal of gender discrimination at the workplace. She asserted that women had an important place, not only as homemakers, but in public and political life. Many of the ideas she advocated in collaboration with other PAP women activists were the foundations of the landmark 1961 Woman's Charter, which promoted the practice of monogamous marriage, protected Singaporean women against physical abuse, provided them with financial protection in divorce, and gave them the right to live separately from their husbands. This Charter is the legal basis for equality between husband and wife that Singaporean women enjoy today.
When Singapore separated from Malaysia in 1965, Mr Lee relied on her skills as a conveyancing lawyer to add in the " water clause' in the Separation Agreement. Her precise and meticulous wording became part of the Malaysian Constitution, guaranteeing Singapore's continued water supply from Johor.
She helped to hone Mr Lee's speeches and of her assistance in writing his memoirs, The Singapore Story, Mr Lee has said that she was "one powerful critic and helper", demanding "precise, clear and unambiguous language".
Madam Kwa believed in equipping young Singaporeans with a rigorous training in law and an appreciation of the world outside of Singapore. In particular, she wanted bright students from needy families not to lose out on opportunities to further their studies and always to be mindful that they must, when able, serve the community in various ways.
Last updated on 08 Jan 2019 .