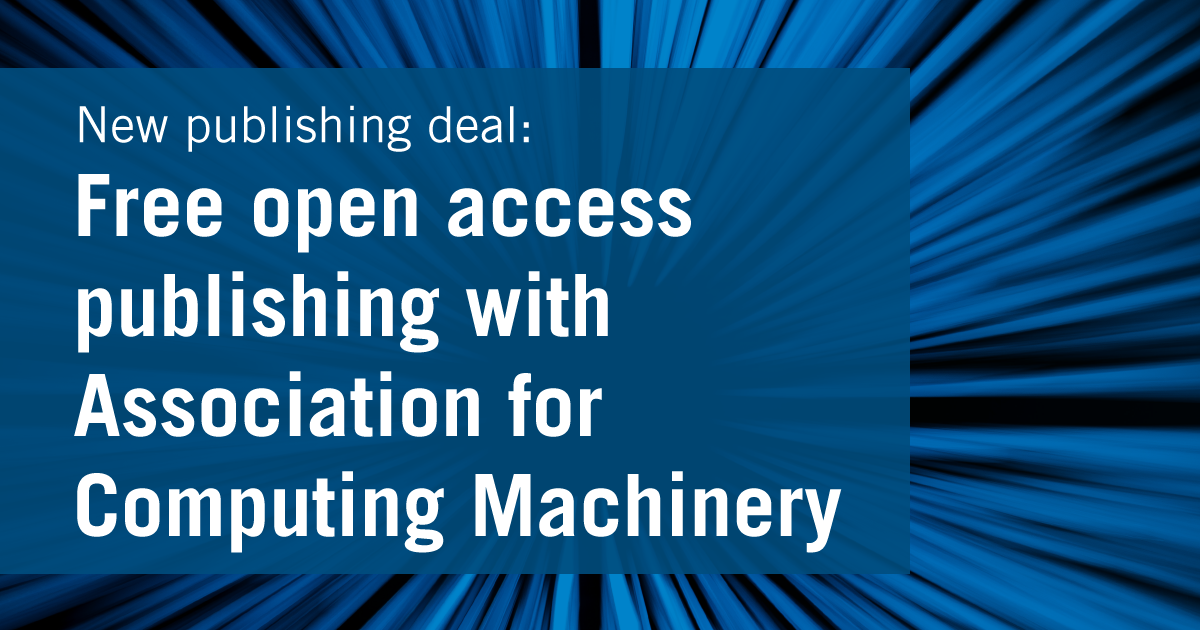 by Xia Wei, Research Librarian, Computing and Information Systems & Coordinator, Postgraduate Services & Ooi Kooi Cheng, Senior Librarian, Collection, Access and Discovery
Did you read about the exciting new publishing deal in last month's ResearchRadar? Hot on its heels, SMU Libraries have inked a similar deal, known as ACM OPEN, with the Association for Computing Machinery (ACM) that started in January 2023.
What is this ACM OPEN about?
ACM OPEN is a publishing deal that allows SMU authors to publish unlimited number of open access articles across ACM's complete catalog of journals, conference proceedings and magazines. It means that your work will be open and free to read immediately upon publication. Same as before, SMU users will have access to read all research articles published in the ACM Digital Library.
In the long term, ACM is committed to a sustainable future vision where all peer reviewed scholarly articles will be published in the ACM OPEN model.
What does it mean to me?
For all submissions to ACM made between 1st January 2023 and 31st December 2027, SMU corresponding authors have the choice to make their published works open access immediately at no cost to the author. If you do not wish to publish open access, you may opt out and publish your work in ACM as subscription-only, paywalled content.
Details of ACM OPEN (ACM's Transformative Model for Open Access Publication) can be found here. Visit these following links to get a list of the conferences, journals and magazines, under this deal.
How does it work?
If you want to publish in an ACM conference or journal, it is important that you are listed as the corresponding author and use your SMU email address when submitting the work. This is to ensure that you are provided with the correct ACM Open eRights forms and will not be required to pay for the open access publishing fees.
When you receive emails notifying you of the submission and then acceptance of your paper, the steps to publish your work is summarized below.
Click on the link in the email to access the eRights form.
Check and confirm the accuracy of the title and author information on the edit screen.
Proceed to the eRights form.
The eRights Form default option (which is also the recommended option) is set to "Institutionally Paid Open Access rights and a Creative Commons CC-BY 4.0 License. Customize the default options as needed. Visit the Creative Commons website for details on the different types of Creative Commons licenses.
Select the Creative Commons license and click "Proceed" to give the publisher permission to publish your work.
Receive an email confirmation of your form's acceptance, along with a copy for your records.
Is there any difference between ACM Open and Cambridge University Press's Open Access Publishing?
The main difference between the two lies in their scope of subject areas and coverage of journals titles. ACM Open deal provides open access to ACM's full suite of journals, conference proceedings, magazines, and newsletters in the field of computer science. In contrast, the Cambridge Journal Transformative deal provides open access to all of Cambridge University Press's hybrid and fully open access journals across all disciplines, including science, technology, medicine, humanities, and social sciences. But overall, both deals aim to increase access to scholarly research through open access publishing models.
Additional Resources
Association for Computing Machinery. ACM OPEN (ACM's transformative model for open access publication). https://libraries.acm.org/subscriptions-access/acmopen